| | |
| --- | --- |
| | Foot Conditions |




Podiatry Associates, LLC
123 Main Street
Anytown, NY 11111
USA
212-555-4321
212-555-1234 fax

Send Us

E-mail

© Copyright 2011
Podiatry Associates, LLC
All Rights Reserved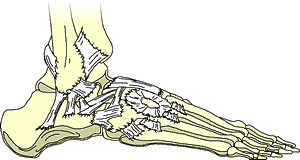 What Do Podiatrists Treat?

The podiatric physician cares for people of all ages, treating any foot problem. Common disorders include:

bunions
heel pain/spurs
hammertoes
neuromas
ingrown toenails
warts
corns
calluses

The podiatric physician also cares for sprains, fractures, infections, and injuries of the foot, ankle, and heel. If your podiatric surgeon is certified by the American Board of Podiatric Surgery, he or she has successfully completed a credentialing and examination process, and has demonstrated knowledge of podiatric surgery, including the diagnosis of general medical problems and surgical management of foot diseases, deformities, and trauma of the foot, ankle, and related structures.

Besides treating these conditions, podiatric surgeons are uniquely qualified to detect the early stages of diseases that exhibit warning signs in the lower extremities, as well as manage those foot conditions which can pose an ongoing threat to a patient's overall health. Such illnesses include diabetes, arthritis, and cardiovascular disease.